2010 Nutley Saint Patrick's Day Parade














A list of all Saint Patrick's Day Parades in New Jersey (NJ)
Photo by NJHometown
Parade Photos Past Grand Marshall
Parade photos Page 1 Page 2 Page 3

Please join the Alliance afterwards for the post parade party to be held at the Knights of Columbus on Chestnut Street. The festivities start after the parade and include beer, wine, soda, hot dogs and corned beef. Entertainment will be provided featuring Irish and American music. The cost is 25.00 per person for unlimited fun and refreshments. Tickets are 20.00 if purchased in advance and children 14 and under are free.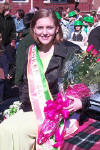 This year Nutley resident, Kevin O'Connor, is the Grand Marshal. Other dignitaries are: Deputy Grand Marshal, Peggy O'Boyle Dunigan; the Queen is Kaitlyn Sussko and the Member of the Year is Judith McIntyre.
Meetings are held the third Thursday of the month at the VFW, 271 Washington Avenue, Nutley at 8:00 PM. New members are welcome.
Please contact Danielle Carlo at [email protected] for more information. Nutley Irish American Alliance, PO Box 22, Nutley, NJ 07110
Past Grand Marshall Parade photos Page 1 Page 2 Page 3