CASTLEREA, COUNTY ROSCOMMON, BAND RECEPTION COMMITTEE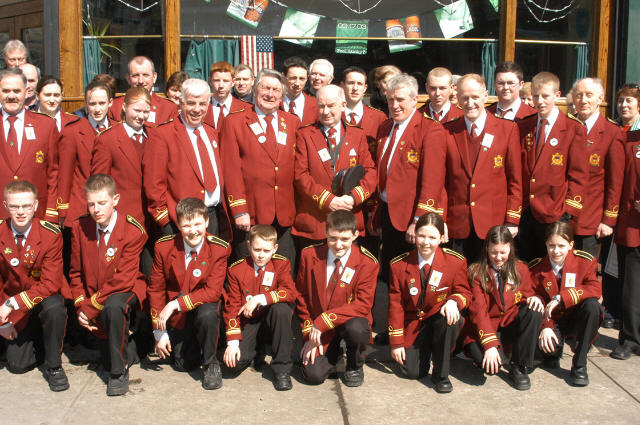 The Castlerea Brass and Reed Band will be visiting the United States for the St. Patrick's season. They are scheduled to arrive on Thursday, March tba, 2010, and return on Tuesday, March tba, 2010. It is expected that approximately 40 people will be visiting the USA with the Band contingent and staying at the Robert Treat Hotel, Newark, NJ.
The Band is scheduled to participate in the following Parades:

March 11, 2006 Union, NJ

March 12, 2006 West Orange, NJ

March 12, 2006 Bergenfield, NJ

March 17, 2006 New York City

March 19, 2006 Newark, NJ
In the New York Parade, the Castlerea Band will lead the County Roscommon Society, Inc. Assembly point will be determined.
On Friday, March tba, 2010, there will be a "Welcome Reception" at Cryan's Beef and Ale, 24 First Street, South Orange, from 7:00 to 10:00 p.m. Tickets will be priced at $25.00 per person, which includes food, refreshments, and entertainment.
There will be Sponsors available at $100.00 that includes two admission tickets to the March 10th reception. In each parade, a banner will carry the names of the Sponsors. To have your name included, you may call 973-244-5814. There is a cut off date so please respond as soon as possible.
On Thursday, March tba, 2010, the Castlerea Brass and Reed Band will play at the New Jersey State House, 12:00 noon, at a Legislative Session. In addition the Band is scheduled to perform in Queens and Bronx NY during their stay.
Time is short with all the St. Patrick's activities, but your presence at the March tba Reception would be greatly appreciated.
Sincerely yours, James T. Cryan, Thomas P. Giblin Co-Chairs