Dublin (Festival) Parade Saint Patrick's Day Parade
Dublin Saint Patrick's Festival will run from
Friday 12th - Wednesday 17th March.














St. Patrick's Festival News St. Patrick's Festival is officially launched! Wednesday 17th February put out the call to dust off those winter blues and get on-board our carousel of Festival fun to be found at this year's fiesta, taking place from Friday 12th -

Wednesday 17th March.
Celebrating its 15th year, St. Patrick's Festival is an occasion for Irish people and tourists to mark our National holiday in March.
Please send us photos of the festival and parade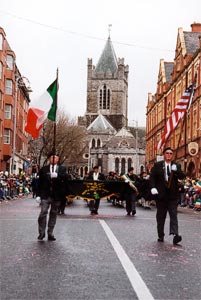 Saint Patrick's Day is so good that in 2009 we are going to celebrate for a full week! Dublin Saint Patrick's Festival will run from the March 12th to the 17th with a wonderful program of free entertainment for all to enjoy. The Festival program is bursting with exciting and fun events including street theatre, fireworks, music, exhibitions and our very own treasure hunt. The atmosphere is contagious - come and soak it up!
It's St. Patrick's Day and the world is Irish! What better place to be than Dublin for the best parade in the world. For an hour and a half you will be entertained by a fantastic array of colorful and creative pageants, marching bands, pomp, ceremony and celebration. The parade starts at 11pm from St Patrick St. It follows a route through Dublin's finest streets - Patrick Street, Dame Street, Westmoreland Street and O'Connell Street. We advise that you get there early in order to get a good view of the world famous parade!