2010 Ocean County New Jersey
Saint Patrick's Day Parade














26th Annual St. Patrick's Day Parade
Saturday, March 13th, 2010 at 12 noon on the Boulevard, Seaside Heights, New Jersey
The Ocean County St. Patrick's Day Parade has been rescheduled because of the rain. The new date is Saturday, March 20th, 2010.
2010 Parade Dedicated to the
Wounded Warriors Project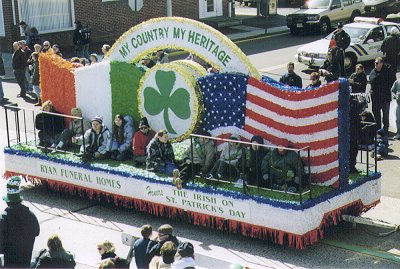 SEASIDE HEIGHTS -- For the 26th year, Seaside Heights will be blanketed in green when the Annual Ocean County St. Patrick's Day parade kicks-off on Saturday March 13 on the Boulevard in Seaside Heights at 12 noon with a rain date scheduled for the next day. John Sweeney, Lavallette, parade coordinator invites community groups to participate in the celebration by joining the line of march which is only 1- 1/4 miles long starting at the Seaside Park border and ending at Sampson Avenue.
Sweeney says, "Participating in the parade is a great opportunity to make the community aware of your organization's presence. The parade is not just for heritage groups and those of Irish ancestry. All organizations are invited to join us." In the parade an Irish group will be carrying the 20' by 40' Irish Flag and the parade marshals along with other committee members will be carrying a 20' by 40' American Flag .The Berkeley Irish Club will carry banners representing each of the 32 counties of Ireland.
Plans are still being formulated, but in prior years, champion Bagpipe bands and Drum and Bugle corps have marched along with award winning Mummers and High School bands among the anticipated 25 or so musical groups. Parade co-chairs Kevin Donahue and Tom King of Toms River, estimate last year's event drew more than 55,000 people and the luck of the Irish had the temperature warm around 62 degrees.
Forty parade marshals are needed to organize the parade route. One might ask how do they organize and march in the parade at the same time? Sweeney explains there is a talent exchange program with the Columbus Day Parade Committee, which hosts an event in October. Parade sponsors include the Ocean County Board of Chosen Freeholders, WOBM AM and WOBM FM, and Shore Point Distributors. Bob Latorre will serve as master of ceremonies with the help of Maria Maruca, executive director of the Seaside Heights Business Improvement District. .He says, "We help each other put on our respective parades. It is fun for all involved."
To participate or for more information, call Sweeney at 732-830-1847, Donahue at 732-288-0236 or King at 848-448-0134. Sweeney states, "I am extremely proud of the growth of the parade in the past 23 years. It is a great intergenerational family event. Children, moms and dads, and grandparents all can enjoy the day cheering on the anticipated 25 bands and 75 marching groups."