2010 North Myrtle Beach, South Carolina
Saint Patrick's Day Parade














March 2010
Are you Irish? No? Your ancestors are from Mainland Europe, Asia, Africa, America? And you are at a St. Patrick's Day celebration?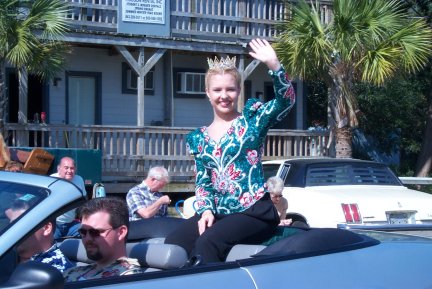 Of course. Can you think of any other foreign holiday which is celebrated more in America than St. Patrick's Day? I understand we celebrate this holiday more than the Irish do. They are a fun loving group and people love joining their festivities, and creating their own. St. Patrick's Day is definitely USA's adopted holiday! North Myrtle Beach, South Carolina, is no different! Although most people in attendance are not Irish, everyone is Irish that day as a parade and festival tradition is honored every year to growing numbers of fun lovers who enjoy wholesome, exciting family fun. North Myrtle Beach will be celebrating this glorious holiday which marks Ireland's patron Saint Patrick's birthday on March 15, 2003. Last year over 30,000 locals and visitors attended the all day event ... so we're talking BIG EVENT HERE! The day starts off with a parade of 150 units marching down Main Street at 9:00 a.m. Next comes the Festival which runs until 4 p.m. Celebrants can shop and view arts and crafts, sample a variety of traditional and first-rate foods, PLUS be entertained throughout the day at several stages.
History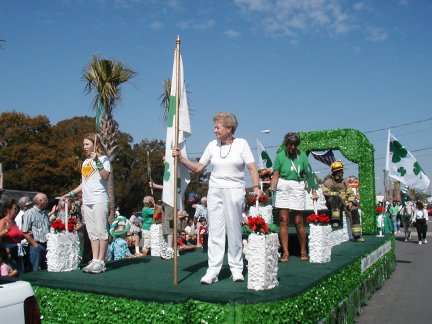 The annual St. Patrick's Day Festival started on March 11, 1888, when a group of far-sighted individuals thought that it was time to give the Canadians even MORE of a reason to come to North Myrtle Beach during the Can-Am Week Celebration. The first Festival was spearheaded by Ben Scalia and other community members. It was staged at North Myrtle Beach's Surfwood Shopping Center until 1892. Then it was moved to Ocean Boulevard and Main Street because it hod grown so in popularity and size that more room was needed to the Parade and Festival.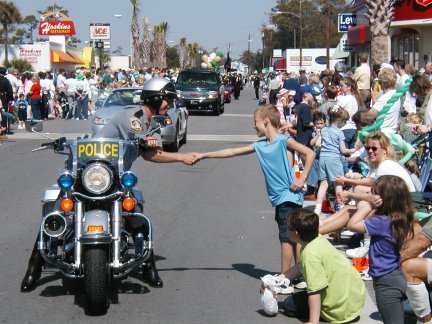 1896 marked the first year a woman, Emily Stephens, was the Grand Marshal for the St. Patrick's Day Parade. Her family owns the Blockade Runner Motel and she is quite active in the community and gardening. Also, it was the first appearance of Rep. Mark Sanford, who pulled a red wagon with his two boys while Mrs. Sanford carried the baby, the youngest member of the parade. Mark was honored for his support of the Grand Strand by being our Grand Marshal in 2000 and the family has grown to four boys!
1897 was the year Matt Sedota, manager of FM 105.9, was recognized for his continued contributions to the community. His radio station at that time was right off Main Street. This was also the first time Time-Warner televised the parade to an ever growing audience.
1898 Julia Hussey, another Main Street emporium, was Grand Marshal. Her husband was one of NMB's first business owners and together they helped develop golf along the Grand Strand. She particularly focused on women golfers. Ms. Hussey is still a business owner on Main Street, and has a gift shop, The Julie Belle, on the original site of her husband's business.
1899 saw Charlie Byers, as Grand Marshal. He is a past mayor of North Myrtle Beach and a real estate developer in the Windy Hills His contributions to the growing community was honored .
In 2001, the Festival committee honored one of our own, Leonard Franz, who was the parade chairperson almost since the festival began and was unable to participate in that capacity this year. He was a business owner, and very active on the Accommodations Tax Committee for several years.
2002 saw Greg Hembree, the Horry County Solicitor, lead the parade. He was very active in the North Myrtle Beach Legal Department prior to his election as solicitor.
Over the last 14 years the parade and festival has attracted many bands, floats, marching units, community groups and service organizations. Last year it provided food, entertainment and arts and crafts for over 30,000 attendees. It has become one of the highlights of Can-Am week activities along the Grand Strand. It is held the closest Saturday to March 17th as a fun event for locals and visitors alike.
Come join us in North Myrtle Beach on March 15th and
EXPLORE YOUR IRISH CONNECTIONS!!!