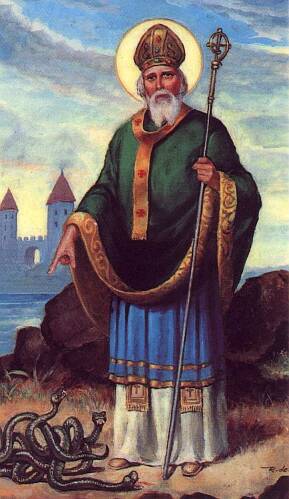 Besides St. Valentine and St. Nicholas, St. Patrick is one of the most revered and celebrated figures. There are many stories and versions of St. Patrick and his life, this is one story.
Patrick was born of Roman parents, Calpurmius and Conchessa, in Scotland, most likely in a place called Kilpatrick, in the year 385. It is believed that his given name was Maewyn. As a teenager, around his fourteenth year, Patrick was captured during a raiding party and sold into slavery. He was taken to Ireland as a slave to tend and herd sheep and swine.
Ireland was a land of pagans, ruled by the Druids. While in captivity, Patrick became fluent in the language and the religious practices of those that held him. After being captive for six years, Patrick escaped after having dreamt that God told him to flee by way of the coast. He fled and was returned to Britain by sailors to be reunited with his parents.
He had yet another dream at this time in which he heard the people of Ireland calling out to him, "We beg you, holy youth, to come and walk among us once more." Having heard his calling, Patrick began his studies for the priesthood, finally being ordained by St. Germanus, the Bishop of Auxerre, France
On March 25, 433, Patrick once again returned to Ireland, landing in Slane, Co. Meath as an ordained bishop, having been sent by Pope Celestine, charged with teaching the gospel to the Irish people,commenced an incredible mission across Ireland, preaching and baptizing, ordaining priests throughout the country, and successfully converting many people. It was in Slane Patrick lit the first Paschal fire. Kings and entire kingdoms converted to Christianity after hearing Patrick's message. In the ensuing years, his disciples and converts began building churches and schools all over the Ireland. Patrick is known for using the shamrock to explain the Holy Trinity to the masses, his followers would wear a shamrock on his feast day, to this day, the shamrock is a symbol associated with St. Patrick.
Patrick spread the Gospel throughout Ireland for forty years. He is credited with working many miracles and wrote of his love for God in confessions. He died on March 17, 461. St. Patrick was a humble, pious, gentle man, whose love, trust and total devotion to God is a shining example for all. St. Patrick's Day was celebrated for the first time in America in 1737 in the City of Boston.
---
St. Patrick's prayer, Lorica:
I arise today
Through a mighty strength, the invocation of the Trinity,
Through a belief in the Threeness,
Through confession of the Oneness
Of the Creator of creation.

I arise today
Through the strength of Christ's birth and His baptism,
Through the strength of His crucifixion and His burial,
Through the strength of His resurrection and His ascension,
Through the strength of His descent for the judgment of doom.

I arise today
Through the strength of the love of cherubim,
In obedience of angels,
In service of archangels,
In the hope of resurrection to meet with reward,
In the prayers of patriarchs,
In preachings of the apostles,
In faiths of confessors,
In innocence of virgins,
In deeds of righteous men.

I arise today
Through the strength of heaven;
Light of the sun,
Splendor of fire,
Speed of lightning,
Swiftness of the wind,
Depth of the sea,
Stability of the earth,
Firmness of the rock.

I arise today
Through God's strength to pilot me;
God's might to uphold me,
God's wisdom to guide me,
God's eye to look before me,
God's ear to hear me,
God's word to speak for me,
God's hand to guard me,
God's way to lie before me,
God's shield to protect me,
God's hosts to save me
From snares of the devil,
From temptations of vices,
From every one who desires me ill,
Afar and anear,
Alone or in a mulitude.

I summon today all these powers between me and evil,
Against every cruel merciless power that opposes my body and soul,
Against incantations of false prophets,
Against black laws of pagandom,
Against false laws of heretics,
Against craft of idolatry,
Against spells of women and smiths and wizards,
Against every knowledge that corrupts man's body and soul.
Christ shield me today
Against poison, against burning,
Against drowning, against wounding,
So that reward may come to me in abundance.

Christ with me, Christ before me, Christ behind me,
Christ in me, Christ beneath me, Christ above me,
Christ on my right, Christ on my left,
Christ when I lie down, Christ when I sit down,

Christ in the heart of every man who thinks of me,
Christ in the mouth of every man who speaks of me,
Christ in the eye that sees me,
Christ in the ear that hears me.

I arise today
Through a mighty strength, the invocation of the Trinity,
Through a belief in the Threeness,
Through a confession of the Oneness
Of the Creator of creation.

St. Patrick (ca. 377)