2010 Hoboken Saint Patrick's Day Parade











Saturday, March 6th, 2010 1:00 pm
2010 Grand Marshal
Bernadette Cunning Pehrson
Parade Photos

Parade Slide Show

Parade Photo Section
The 2010 Hoboken St. Patrick's Day Parade steps off at 1 p.m.
on Saturday, March 6th at Washington and 14th Streets.
Additional Photo from Past Hoboken Saint Patrick's Day Parades
1 2 3 4 5 6 7 8 9 10 11 11 Hoboken Parade Photos next>>>>
Grand Marshall Announced for March 6th Hoboken St. Patrick's Parade
Hoboken, NJ (February 1, 2010) – The Hoboken St. Patrick's Parade Committee announced today that Bernadette Cunning Pehrson has been named the 2010 Grand Marshall. The Hoboken St. Patrick's Parade will take place Saturday, March 6th at 1:00 PM on Washington Street.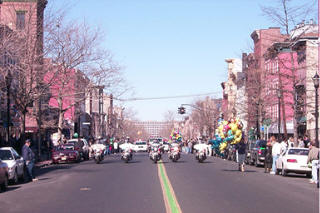 "We are extremely honored to have Bernadette Cunning Pehrson as this year's Grand Marshall. Bernadette has been on the parade committee since its inception in 1985 and has worked tirelessly on its planning and logistics year after year. Additionally, Bernadette has been active in Irish unity and cultural pursuits, including having served as President of the Irish American Unity Conference – Hudson County Chapter as well as National Secretary of the conference. Bernadette was also part of a small coalition that brought Sinn Fein's Gerry Adams to the United States for the first time in 1998, just before the signing of the historic Good Friday peace agreement," said Bill Noonan, Co-Chair of this year's parade.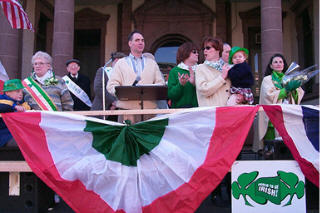 Additionally, the committee announced that Carol Ann Wilson, long-time Hoboken resident, Director of Health and Human Services for Hudson County, and an activist for numerous Catholic charities, has been named Irishwoman of the Year. Similarly, Dr. John Crowe, Superintendent for the Woodbridge Township School District and recipient of numerous statewide and national educator awards, was named Irishman of the Year. James J. Farina, Hoboken City Clerk and a long-time supporter of the parade, has been named Honorary Irishman. Community Service Award winners are Patricia Scribner, for her work aiding the homeless and other community causes, and Tim Daly, for his work in support of the Hoboken artists' community and local housing issues. Irish Firefighter of the Year is Hoboken Battalion Chief Brian Greene and Irish Policeman of the Year is Detective Nick Burke.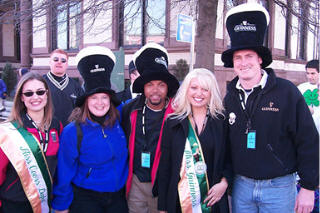 "The committee looks forward to honoring our Grand Marshall and our other honorees at our upcoming Irish Party. These individuals represent all of the great things about the Irish-American community in Hoboken. They are all energetic, hard-working individuals whose vigorous support of local charities, schools and civic organizations is remarkable. We hope that many people from our community will turn out to honor these fine people at our Irish Party to be held on Sunday, February 21st from 5:00 PM to 9:00 PM at Our Lady of Grace School Auditorium on Willow at Fifth Street," Noonan added.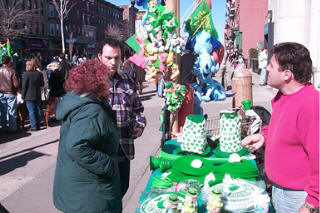 The Hoboken Irish Party will feature live music, dancing, a hot corned beef dinner and an open bar. Tickets for the party are $50 each and can be purchased in advance at Mulligan's and Willie McBride's, or call 201-420-7842. The Hoboken St. Patrick's Parade Committee has also made arrangements for the Annual St. Patrick's Mass at Our Lady of Grace Church to take place at 5:00 PM on Saturday, February 27th.
Contact: Bill Coughlin 201-232-7990