2011 South Amboy Saint Patrick's Day Parade













Saturday, March 12th, 2011 - 2 pm
23 Saint Patrick's Day Parades in New Jersey (NJ)
Bands and Groups.. look for the White register's tent on the west side of Pine ave. and Ferris St. To locate your position in the parade. Line up is at 12:30
This year's parade will have 13 Pipes Bands and 3 Mummers, 33 Bands in all.
A Pipe & Drum Band directly from Ireland to grace our streets this year
Celebrate the day with the AOH Mass at St. Mary 9:00 am ,
Flag raising ceremony after mass at City Hall. Parade Step-off at 2:00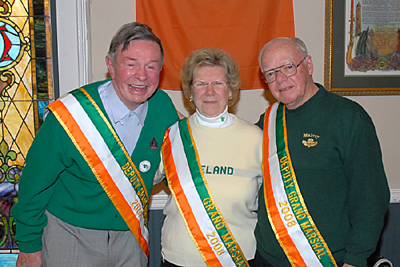 The 2011 parade is scheduled for March 12th, step-off at 2pm. The parade committee is already working on making next year's parade bigger and better. If anyone is interested in joining the parade committee please e-mail the committee through the contacts page or call me at 732-721-5031.we certainly welcome everyone willing to make our parade better.
The City of South Amboy in its earliest years was a railroad town. The Camden & Amboy RR, one of the nations first commercial railroads and predecessor to the Pennsylvania RR had its beginnings here in South Amboy. Employment on the railroad at our bustling train yards attracted many Irish immigrants who found it difficult to work in the ladder part of the 19th century. Although about half of the population of the City of South Amboy is of Irish decent, little or no Irish American organizations existed to share in the pride of a common heritage. It was not until 1976 when our parade was first conceived by an idea of Frank Connolly who was the owner of the Monahan House at the time. Frank organized what was to be the first South Amboy Saint Patrick's Day Parade in 1976. The parade consisted of one bag piper, the South Amboy Police department, the Fire Departments, the First-Aid squad and a few marchers who represented the Frank Connolly association. In 1978, Frank sold the Monaghan House and a group of supporters organized the South Amboy Irish American Association for the sole purpose of continuing the St. Patrick's Day Parade.
Every year subsequently the parade has grown and flourished. This year the parade will have at least 32 marching bands, floats and hundreds of marchers.

GRAND MARSHALS & DEPUTY GRAND MARSHALS

1976 - WILLIAM 'DOC' O'LEARY
1977 - TOM O'BRIAN
1978 - ROBERT HACKETT
1979 - FRANK CONNOLLY
1980 - JAMES AND MARY LENAHAN
1981 - ROBERT HOURAHAN
1982 - ALFIE CLARK
1983 - DAVE KELLY
1984 - ALFIE O'CONNOR
1985 - MARY POWDERLY
1986 - WILLIAM COMAN
1987 - JOE CROWE
1988 - JOHN POTHOFF
1989 - ED. WALLACE
1990 - JOHN P. KENNY
1991 - JIM HARVEY
1992 - GEORGE SHULER
1993 - NEIL HOURAHAN
1994 - JIM 'RED' O'CONNELL
1995 - GINNY TIERNEY
1996 - JACK McCARTHY
1997 - BILL McDONNELL
1998 - ED SEMONEIT
1999 - BILL TIERNEY
2000 - JACK O'LEARY JR.
2001 - PETE KENNY
2002 - JACK O'LEARY SR.
2003 - GENEVA KELLY
2005 - JOE NOBLE, RUSS STILLWAGON, DICK CRONIN
2005 - JIM 'DOC' RYAN
2006 - LEO McCABE
Deputy CLAIR NOBLE
2007 - WALTER "PETE" CASEY
Deputy JAY MCKEON & MIKE KELLY
2008- ElIZABETH "BETTY" LEVEILLE
Deputy LUKE LENAHAN & JOHN "JACK" MULVEY